Media Rooms: Home Theatre Quality in a Casual Setting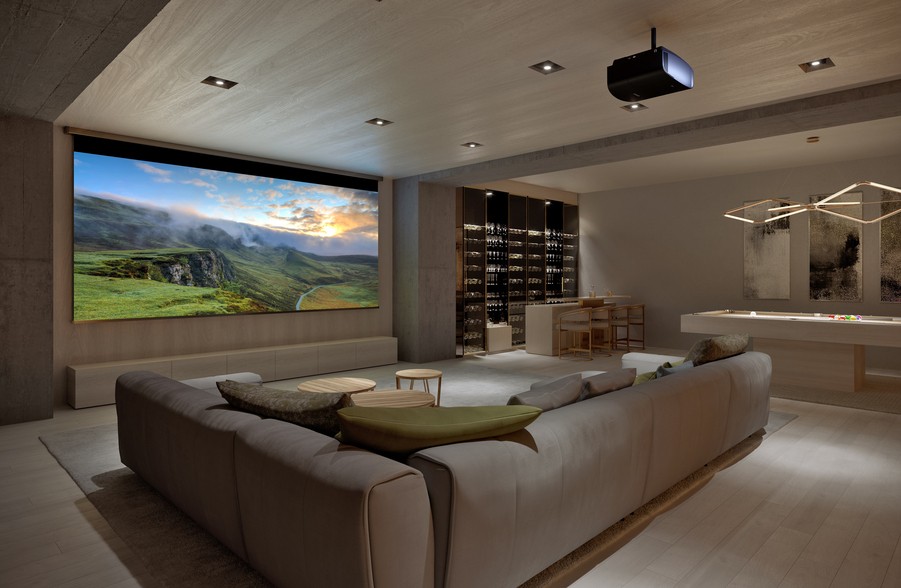 Create a Space to Entertain with a Media Room Design
Most people agree—movies, shows, and video games are best enjoyed in a home theatre. But not everyone has room for a private cinema, and not everyone necessarily desires a dedicated theatre room.
If you still want jaw-dropping visuals and audio in your Muskoka, ON, home, you can enjoy the same AV quality with a media room design. What's a media room? Find out below!
SEE ALSO: Wired or Wireless? How to Buy & Build a Multi-Room Audio System
What Is a Media Room?
Most houses have living rooms and dining rooms. What about a media room? It may be a newer term, but we use it to describe a living space outfitted with a quality audio and video system. It may have a projector or large 4K TV, but it isn't as formally arranged as a home theatre. You might also use the media room to play games, share food and drinks, and host guests while music plays over the surround sound system.
What Makes a Great Media Room Design?
If you want to use your media room to play pool or open a bottle from the wine cabinet, you may need extra space to move freely. If a surround sound system gets in the way, consider installing hidden speakers that blend discreetly into your walls and ceiling. You'll still enjoy high-fidelity sound but with no trace of equipment.
Even your display can hide when not in use. Hidden flatscreens can descend from the ceiling or swivel up from the floor, and projector screens retract with a press of a button.
Lighting control allows you to easily transform the mood of the media room, too. An "Entertain" scene on your lighting keypad or app will brighten the room comfortably for guests. And when it's time for home theatre mode? Press "Movie," and all the lights will slowly darken while the motorized window shades close.
Curious to Learn More?
If you're interested in media room design or home theatre technology, Connect E3 designs and installs customized home AV systems. Contact us here to learn more about our services and discuss your project today!